Rooting for communal harmony in Haryana's Nuh and Gurgaon, which had witnessed tension recently, the Supreme Court on Friday termed the developments "unacceptable" and said the onus was on all communities to maintain peace.
A Bench headed by Justice Sanjeev Khanna also said that people having to run to courts every time an instance of hate speech happens is not going to solve the problem and wondered if an internal mechanism in the form of a committee under the Director General of Police to vet such complaints should be put in place.
"There has to be harmony and comity between communities. Everyone is responsible. All communities are responsible. What is to be done in such a case? This is not acceptable", Justice Khanna said while hearing an application referring to alleged hate speeches in the wake of the clashes.
The bench also directed journalist Shaheen Abdullah, who is the petitioner in the case, to collate all material, including videos, and submit to the nodal officers appointed in each state in pursuance of its October 21, 2022 judgment.
Appearing for the applicant, senior advocate Kapil Sibal said calls to boycott a community were made in the aftermath of the violence. Stressing that people need to be protected, he said such vitriol cannot be allowed to go unchecked.
The Bench also comprising Justice S V Bhatti sought to know if such speeches were reported only in Nuh or in other districts and states as well. Sibal responded that they were happening at "multiple" places. Appearing for Delhi Police, Additional Solicitor General K M Narataj said he had not seen the records yet and sought more time.
Justice Khanna said "this problem has to be solved. No one can accept it". Agreeing, the ASG said there is already a mechanism under the law to deal with the issue of hate speech. "The law is settled. There is a mechanism," he said, adding that in some places it's not working.
He also expressed concern over people rushing to the Supreme Court with such complaints and said that if this continues, there will be no end to such applications.
Advertisement
Justice Khanna said it did not want the SC to become the sole recourse in such cases and asked "Why not have an in-built mechanism like a committee under the DGP to deal with these at the first instance". There could be a committee for each district or two or more districts put together, he said, adding that the affected party can approach a magistrate if the committee fails to register an FIR or if an FIR is wrongly registered.
Sibal expressed his doubts over the suggestion and said when someone, in the presence of the police, gives such boycott calls, the committee would not help. He added that polarising events and hate speeches will continue unabated in the meanwhile.
The senior counsel said the question is what progress is made after registration of FIRs. He asked what is the point in registering FIRs when no one is arrested or prosecuted after that. Justice Khanna said the committee can keep a periodic check on the progress of the FIRs.
Most Read 1 Bigg Boss OTT 2 Finale Live Updates: Elvish Yadav is the winner of Salman Khan's show 2 Gadar 2 box office collection Day 3: Sunny Deol film collects a whopping Rs 135 cr in opening weekend, is second highest earner of 2023 3 OMG 2 box office collection day 3: Akshay Kumar film ends first weekend on a high, rakes in Rs 43.56 crore 4 Jailer box office collection Day 4: Rajinikanth wave intensifies, film set to enter Rs 300 crore club 5 India vs West Indies, 5th T20 Highlights: King finishes off with a 6, WI clinch 1st T20I bilateral series win over IND since 2016 Advertisement
The court asked the ASG to take instructions and fixed the matter for hearing again on August 18.
The application filed by Abdullah said despite the apex court's order, over 27 rallies were organised in various states in the aftermath of the communal clashes in Haryana's Nuh and hate speeches were made "calling for the killing and social and economic boycott of Muslims".
Also Read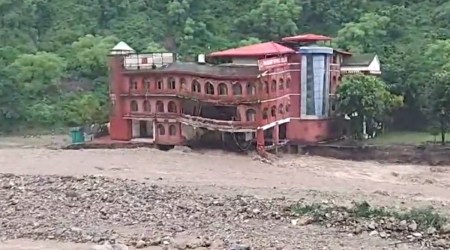 Watch | Defence College collapses amid heavy rainfall in Uttarakhand's De...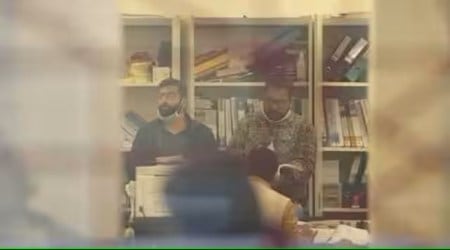 'They are dealers, not leaders': Retired judges, officers write to Presid...
No respite for Uttarakhand, Himachal Pradesh from extremely heavy rain ti...
Independence Day 2023 Live: In address to nation on eve of 77th Independe...
The application contains a table showing some of the rallies that took place between August 1, 2023 and August 7 with relevant video links. The petitioner has sought directions to the Commissioner of Police, Delhi and Director General of Police of Uttarakhand, Uttar Pradesh and Haryana and other authorities to take adequate action and ensure such rallies are not allowed.
© The Indian Express (P) Ltd